Festival of the Sea
Saturday, September 21, 2013
36th Annual Festival fo the Sea and Street Fair located Downtown Point Pleasant Beach. Saturday September 21st 2013. 
Rain Date Sunday September 22nd 2013.

Vistors sample dishes by area's finest restaurants, from Clam Chowder to Lobster, to Steak, even Desserts!!!! Arts and Crafts, pony rides, hundreds of vendors attend this festival. Kiddie games, live entertainment and more. Voted Best Seafood Festival in Ocean County by the Asbury Park Press Readers Year after Year!!!!

Festival runs from 10am to 7pm Arnold and Bay Avenues.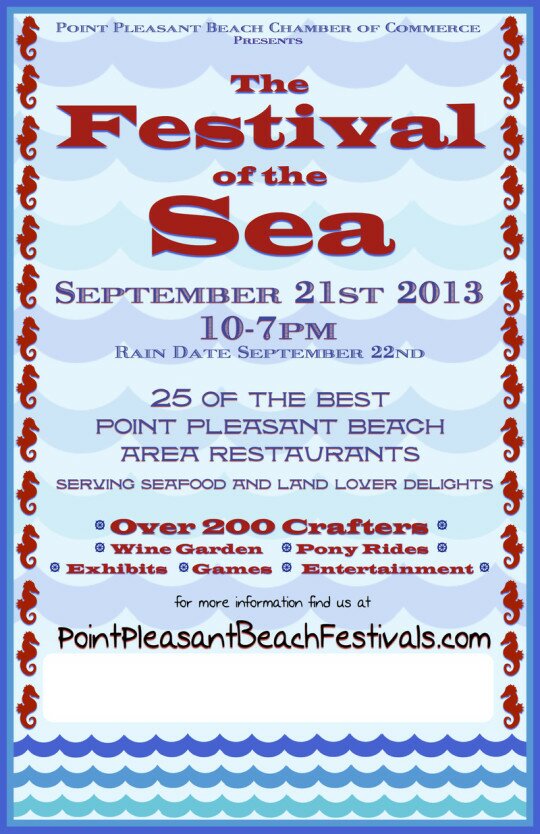 Food Vendor Applications have been mailed out
To apply for any other vendor spots, please see the documents below.
2013 Crafter Application
crafter2013.pdf
Adobe Acrobat document [143.4 KB]
2013 Non-Profit Application
nonprofit2013.pdf
Adobe Acrobat document [75.9 KB]
2013 Non Food Buisness Application
non-food-crafter.pdf
Adobe Acrobat document [86.3 KB]
2013 Children Activities Vendor Application
kids2013.pdf
Adobe Acrobat document [53.0 KB]